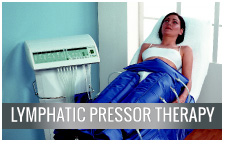 Controlled Lymphatic Pressure Therapy – treatment for body detoxification
Lymphatic Pressor Therapy is a unique method of restoring circulatory problems, fluid retention, lymphatic drainage disorders and other organic filtering mechanisms that your body requires for good health and functioning.
Pressor stands for "pressure" and pressure therapy is proven to be beneficial through extensive clinical trials for the treatment of angelology, cosmetic medicine, and physiotherapy and beauty treatments.
The treatment is simple, and fast, only requiring 30 minutes for immediate benefits in relieving feelings of tiredness, jetlag, and depression.
The treatment is suitable for multiple and regular use and is excellent for:
improving sluggish lymphatic drainage and venous return

maintaining normal return circulation

preventing varicose veins and thrombosis

improving heavy, tired legs, oedema and fluid retention

cellulite

obesity

general detoxification

lymph oedema and venous oedemas

post-operative oedema

post cosmetic surgery care.
SIMILAR SERVICES: