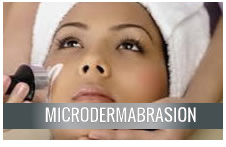 Microdermabrasion is a non-invasive technique to remove the outer layer of dead skin cells. This procedure leaves the skin looking younger and healthier and fresher. This procedure is much less intense than dermabrasion.
Microdermabrasion is effective at improving and reducing fine lines, age spots or brown spots, and other superficial skin blemishes. The treatment can also be helpful with oily and enlarged pores, blackheads, and some acne scarring.
In addition, microdermabrasion stimulates the producton of collagen.
Who can be treated?
The Microdermabrasion is a safe, common, non-surgical procedure however there are people who should not have it like people with eczema, lupus, active herpes lesions, active acne or rosacea, open lesions, dermatitis, psoriasis, or if you are using Ro-accutane within the last 6 months.
How long does it take?
The typical session for microdermabrasion takes between 15 and 30 minutes.  It takes longer if it is combined with other treatments.
Most people choose to have microdermabrasion done on their skin to reduce the common signs of aging . You can even have microdermabrasion treatments on your lunch break, returning to work immediately with no side effects and no down time.
Indications:
Deep cleansing of your skin leaving it looking and feeling smooth and soft

Acne: People with mild acne or mild scarring can benefit from microdermabrasion

Aging skin: People in the early stages of aging or poor texture or large pores can also be helped. This technique gives you a fresher, glowing look

Rejuvenation: This technique is good for any kind of skin or tone, light or dark

Fine lines: It can reduce fine lines on the face and neck area, restoring that youthful look

This treatment is not suitable for sunburned, severe scars, deep wrinkles, inflamed skin

It is not good for sensitive skin or those with high hyper pigmentation.
Before you go in for the procedure, you should have no sun exposure.  You should also stop any medication for your skin, especially Retin A.  Before your treatment, your skin will be cleaned.
There are many treatment options that you can choose from. Each treatment of microdermabrasion costs start from $95.00.
Post-treatment
Following any microdermabrasion treatment it is important to avoid the sun and use sunscreen as the skin is usually very sensitive to sun exposure.
SIMILAR SERVICES: